Orion Aspect™ *Discontinued* Indoor LED RGB Wash Batten
The Lanta Orion Aspect™; is a tri-colour display wash with sixteen vibrant LEDs arranged in four banks of four. Its robust case, compact profile and versatile bracket make it as equally suited to front-of-stage placement as much as flown installlations. DMX control is supported in addition to onboard control modes.
| | |
| --- | --- |
| Model Number: | J82720 |
| Total LEDs: | 48w (16 x 3w Tri Colour LEDs) |
| Colours: | Full RGB spectrum |
| DMX operation: | YES |
| DMX channels: | 5 & 13 |
| Master slave: | YES |
| Linkable: | YES |
| LCD display: | YES |
| Internal programmes: | Programmable static colour, colour mixing and colour fading functions, test mode |
| Sound operation: | YES |
| Mounting: | Extended double yoke bracket for use as floor mount or hanging bracket. Safety eye included |
| Construction: | Lightweight Steel |
| Connections: | UK Mains plug and captive lead, DMX IN (3 pin XLR) DMX OUT (3 pin XLR) |
| Power requirement: | 240V AC 50/60Hz |
| Power consumption: | 50w |
| Dimensions WxDxH: | 375mm x 235mm x 85mm |
| Weight: | 3.4kg |
| EAN: | 5060304950246 |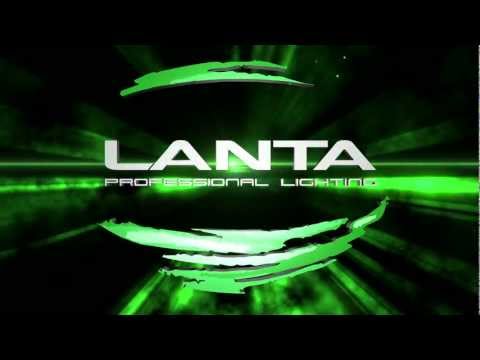 Ultra Bright LEDs
High output super bright LED Technology is moving at an incredible pace and LANTA products are at the forefront of LED design. But there is more to having brightness than just components. To make an LED last longer, work brighter and work better, a complex combination of heat dissipation, lens technology, power supply design and mechanical assembly all have to be optimised for best performance. With all LANTA lighting, this is all brought together coupled with automated assembly. The result is brighter products, longer lasting and brilliant value!
Atmosphere and Effects
LEDs make a fantastic contribution to the global move towards reduced carbon production. They use a tenth or less of the electrical power of traditional lighting, produce little heat but offer extra benefits such as multi-colour output. This can significantly reduce the number of fixtures required in a theatre or club.
Designed in the UK
LANTA LIGHTING is based in Northampton, UK. Our engineers spend their time designing new and exciting products and work closely with our factories to ensure our products meet our stringent quality standards.
Photometrics
LANTA LED fixtures produce superb colour mixing & uniform illumination patters to ensure smooth colour generation. The information shown here explains how much light is produced in relation to the distance from the fitting and the angle of the fixture in relation to the viewer or area to be lit.